VS komen met nieuwe sancties tegen Rusland
De Verenigde Staten bereiden nieuwe sancties tegen Rusland voor wegens de Russische steun aan de Syrische president Bashar al-Assad. Dat heeft de Amerikaanse ambassadeur bij de Verenigde Naties, Nikki Haley, zondag gezegd in een interview met het CBS-programma Face the Nation.
Haley zei dat de sancties maandag door minister van Financiën Steven Mnuchin worden aangekondigd. De strafmaatregelen zullen worden opgelegd aan bedrijven die producten maken die verband houden met de Syrische president Assad of het gebruik van chemische wapens.
Haley zei ook dat de VS geen directe gesprekken zullen voeren met Assad. In het interview met CBS vertelde zij dat Syrië tot nu toe geweigerd heeft deel te nemen aan multilaterale onderhandelingen die worden begeleid door de VN. Zij voegde eraan toe dat Rusland Syrië had moeten dwingen aan die onderhandelingen deel te nemen. "We gaan geen één-op-ééngesprekken met Assad voeren", stelde de diplomate.
Aanval op doelwitten
De VS, Groot-Brittannië en Frankrijk vielen in de nacht van vrijdag op zaterdag in Syrië drie doelwitten aan als vergelding voor een vermeende gifgasaanval op de stad Douma. De drie bondgenoten houden Assad verantwoordelijk voor die mogelijke gasaanval op 7 april. Volgens de hulporganisatie Witte Helmen zijn er minstens 43 mensen omgekomen.
Haley zei eerder zondag op Fox News dat de VS hun troepen niet uit Syrië terugtrekken tot alle Amerikaanse doelen zijn bereikt. Ze noemde er drie: de zekerheid dat er geen chemische wapens worden gebruikt die een risico vormen voor de Amerikaanse belangen, het verslaan van Islamitische Staat en zorgen dat de Iraanse activiteiten in de gaten kunnen worden gehouden.
Het is ons doel "om Amerikaanse troepen thuis te zien komen, maar wij gaan niet weg voordat wij die dingen hebben bereikt", zei Haley.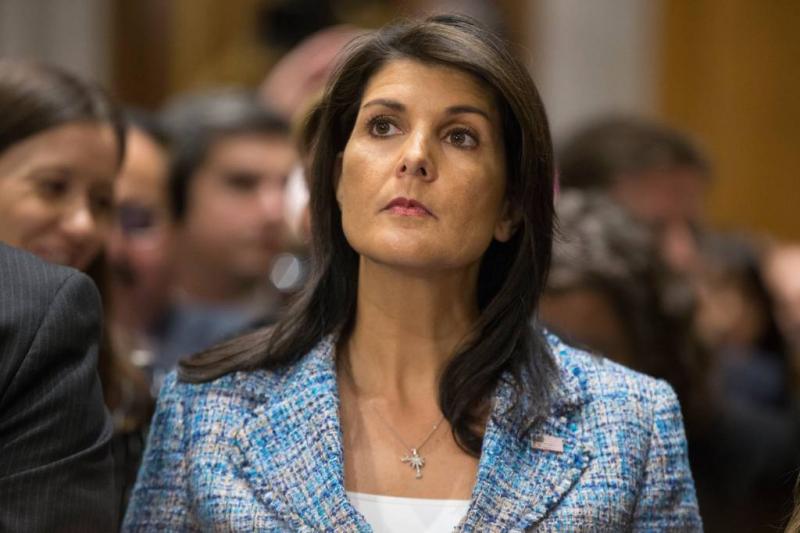 VS komen met nieuwe sancties tegen Rusland (Foto: ANP)